Smoked Salmon with Homemade Crostini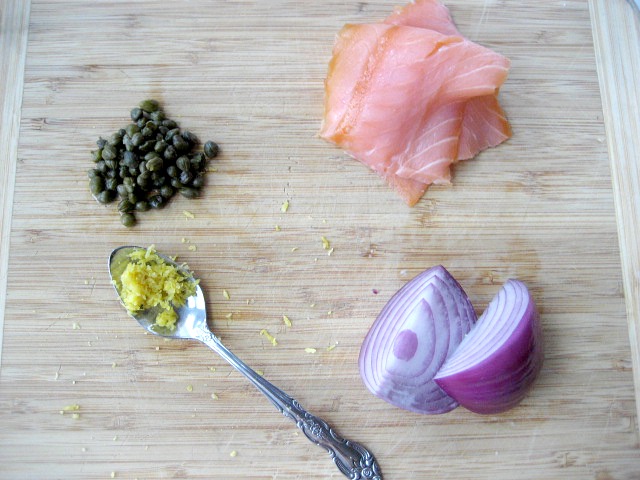 Author:
Keys to the Cucina
For Salmon:
3 oz smoked salmon, diced
4 tsp capers, roughly chopped
¼ red onion diced
1 tsp lemon zest
For Greek Yogurt Sauce:
3 oz greek yogurt
6 chives, diced
1 tsp lemon juice
For Crostini:
1 French Baguette
3 tbs extra virgin olive oil
1 tsp salt
1 tsp pepper
½ garlic clove
Preheat oven to 350.
Cut french baguette into about ¼ inch slices.
Arrange on sheet pan and brush with olive oil.
Season generously with salt and pepper.
Bake for 10-15 minutes and rub with one half of garlic clove right after they come out of the oven.
Combine all ingredients for salmon in one bowl and stir together until well incorporated.
In a separate bowl, combine the Greek yogurt sauce ingredients until incorporated.
To serve, place a teaspoon of salmon filling onto each crostini, and top with half a teaspoon of Greek yogurt sauce.
Recipe by
Keys to the Cucina
at https://keystothecucina.com/2013/08/26/smoked-salmon-with-homemade-crostini/