Happy almost October! We are now breezing on into meatball and cozy tomato sauce season and I couldn't be happier. To this day, nothing warms my heart and stomach like my mother's meatballs and red sauce. In fact, just the other day, Bryan mentioned that I hadn't made red sauce in a long time and I had to explain to him that it is just not a dish I eat during the warm months. Tomato sauce knows it's place, there's got to be a chill in the air, trees with barely there leaves and a crusty baguette along side it.
While I haven't yet shared my mother's famous beef meatball recipe, I wanted to share with you these lamb ones and you can always throw it back to my turkey ones found here. Lamb imparts a unique flavor and with the heavy hand of oregano in the sauce and the dots of salty ricotta cheese garnish, the flavors are a fabulous combo of Italian and Greek.
Don't be intimidated by the list of ingredients, most of them are pantry staples and the instructions could not be easier, enjoy!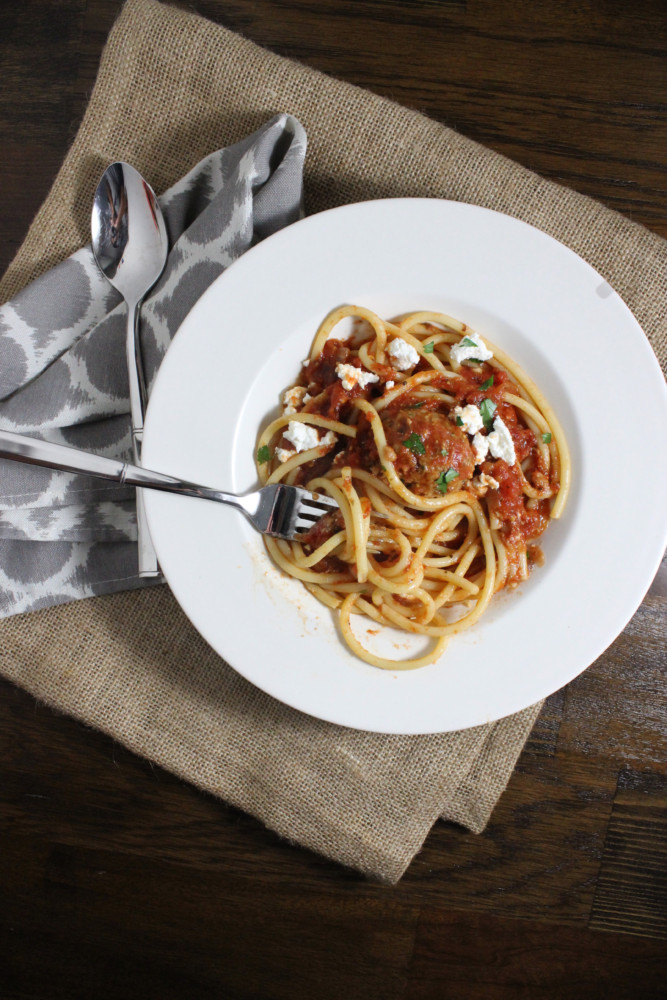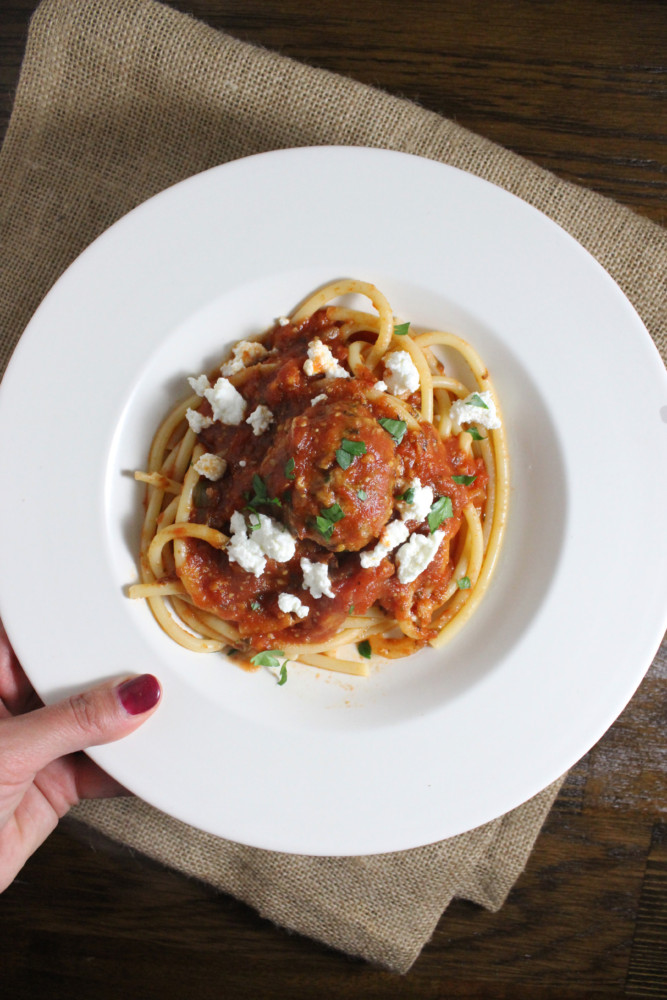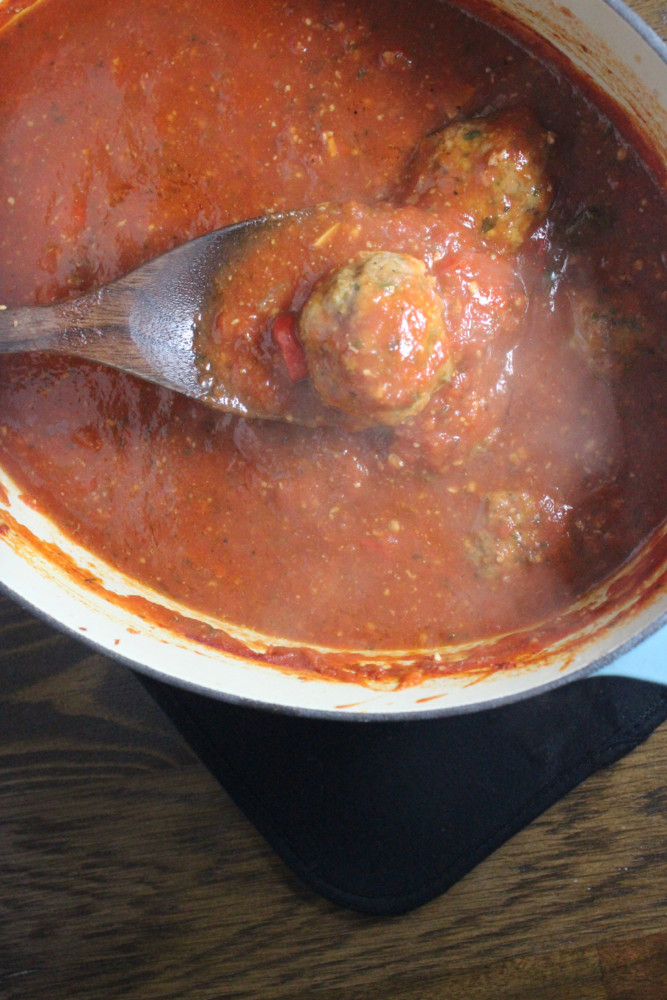 Bucatini with Lamb Meatballs and Spicy Red Sauce
Author:
Keys to the Cucina
Ingredients
2 Tbs extra virgin olive oil
¼ onion, finely chopped
2 cloves garlic, minced
½ chili pepper or jalapeno, seeds removed
1 28 oz. can crushed tomatoes
1 28 oz. can whole peeled San Marzano tomatoes
2 tsp salt
1 tsp basil
1 tsp oregano
1 tsp dried parsley
1 tsp crushed red pepper
1 handful chopped flat leaf parsley


1 lb ground lamb
¼ onion
1 large handful flat leaf parsley
2 cloves of garlic
1 piece of bread, soaked in 1-2 Tbs of water
2 Tbs ketchup
1 egg
1 handful parmesan cheese
1 tsp salt
1 tsp black pepper
1 tsp basil
Pinch of cayenne pepper
Instructions
Heat a large pot on medium with the evoo. Add in the onions, garlic and pepper and cook on medium low for 3 minutes.
Carefully pour in the crushed tomatoes and use your hands to break up the whole peeled San Marzano tomatoes.
Sprinkle in the salt, basil, oregano, dried parsley, crushed red pepper and fresh parsley and simmer on low for one hour. While it's simmering, move onto preparing the lamb meatballs below.
Preheat oven to 350.
In a food processor, pulse onion, parsley and garlic until finely minced.
In a large bowl, soak the piece of bread with water until it starts to break apart. Add in the ground lamb and mix the onion parsley mixture with the ketchup, egg, parmesan, salt, black pepper, basil, and cayenne. Gently mix until well incorporated.
Roll out the meatballs about 1 inch in diameter and line them up on a sheet pan drizzled with olive oil
Cook for 28 minutes until the bottoms turn golden brown.
After the sauce has simmered for an hour, place the meatballs into it one at a time and any pan drippings from the lamb as well.
Serve with your favorite pasta and garnish with fresh ricotta and parsley.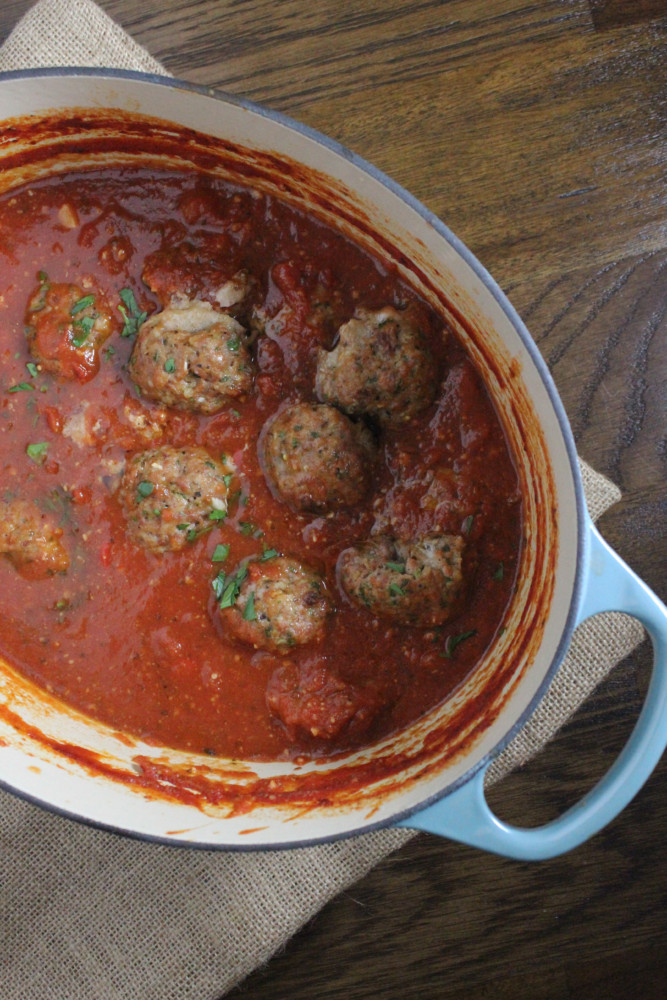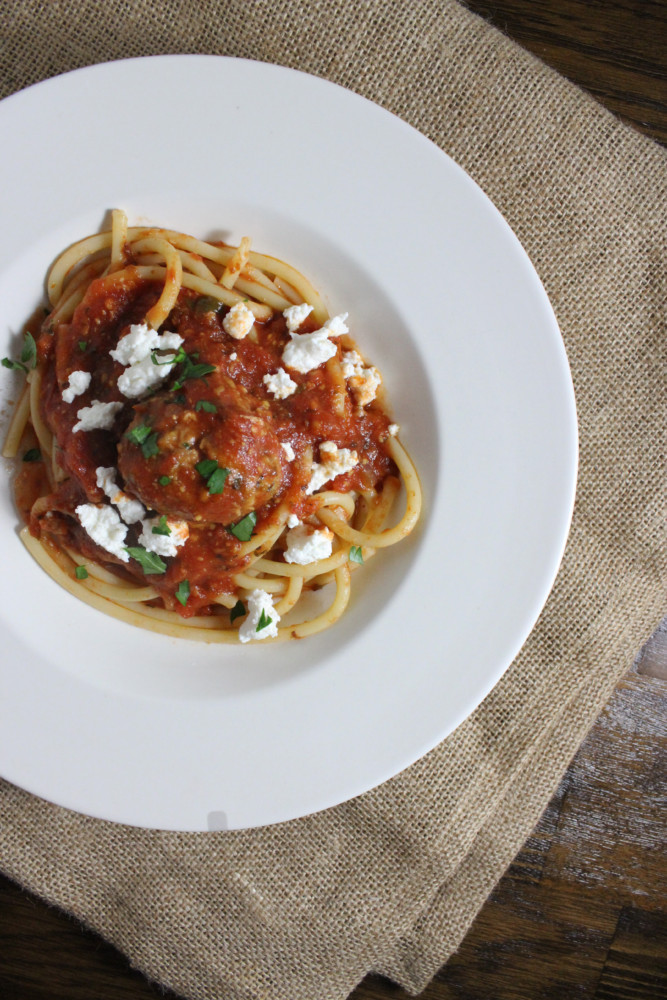 I saw this band open for Gavin Degraw almost seven years ago and I am so happy their new stuff came on my Spotify and that they are still playing music. The girl's voice is so unique, I just love it!
---
Sign up and subscribe HERE to Keys to the Cucina and receive notifications when a new post goes live!