I am so excited to share a couple of date night recipes for two this week in honor of Valentine's Day! Instead of going out to dinner with everybody and their mother, why not eat in and make a meal with some luxurious ingredients? That's just what I had in mind when I bought these sea scallops at the store. Scallops are something I don't eat very often, and if I do it's a special occasion at a restaurant. They are so easy to work with and all they need is a couple minutes seared on each side to bring out their amazing flavor. I paired the scallops with risotto laced with handfuls of buttery parmesan cheese and adorned with a dusting of lemon zest. The pairing is so rich and creamy, if only I could eat this every night!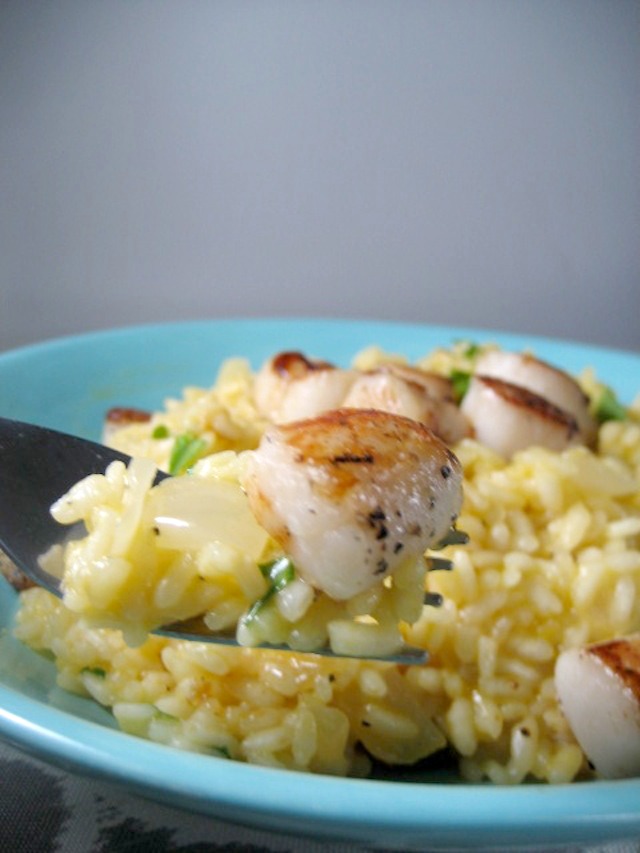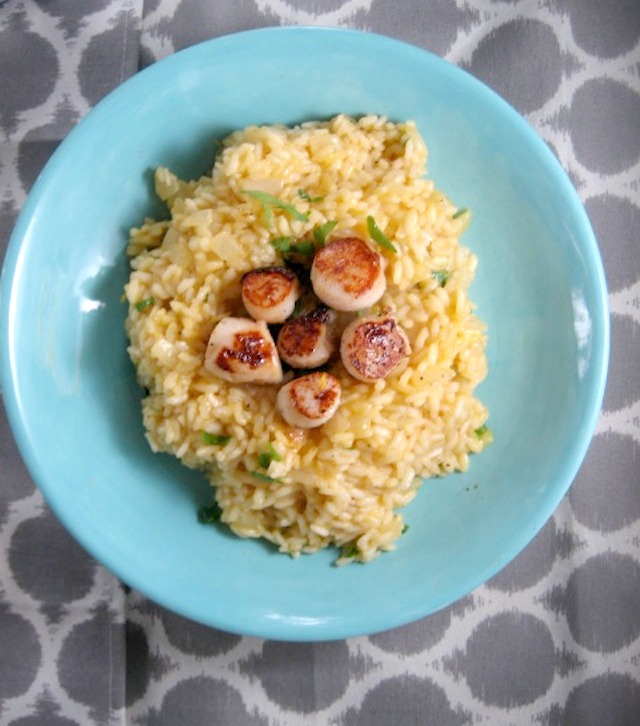 Now, what's a date night "in" without some wine to go with your meal? Valentine's Day is on a Friday this year, which equals no work Saturday which means you deserve a glass (or a few glasses) of wine! I synced up with my friend Alison over at Bon Vivant Wine Consulting to bring you the perfect pairing for your this dish, and here is her suggestion:
"I'd recommend La Val Albariño from Rias Biaxas, Spain. This estate grown and produced Albariño is a classic pairing for seafood.  Its medium body would stand up nicely to the richness of the butter and parmesean, without overpowering the delicate scallops. The wine's aromatic floral notes are complimented by ripe apple, melon and citrus on the palette."
At only $18.99 a bottle, I'd say this is hits the sweet spot price range for a date night in with your special someone! Be sure to check out more of Alison's recommendations in her blog and see her upcoming D.C. events here.

Pan Seared Sea Scallops with Parmesean & Lemon Risotto
Author:
Keys to the Cucina
Ingredients
Risotto:
1 medium onion, chopped
2 tbs butter
1 c arborio rice
3¼ c vegetable broth
1 tbs fresh parsley
2 handfuls grated parmesan
½ tsp salt
½ tsp pepper
¼ tsp lemon zest
Scallops:
2 tbs extra virgin olive oil
½ lb sea scallops
Dash of salt and pepper
Instructions
On medium heat, melt butter and cook onions for 5 minutes.
Add in the arborio rice, and toast up for about 2 minutes, constantly stirring.
Lower heat to medium low and slowly pour in vegetable broth and keep stirring.
Once broth is absorbed, add more in, and keep stirring/adding broth until you run out of liquid and the rice is cooked, about 25 minutes.
Finish with the parsley, parmesan, salt, pepper and lemon zest. Set aside.
In a saute pan, heat the evoo on medium high.
Dry the scallops completely and sprinkle with salt and pepper.
Place scallops in pan and cook for about 2 minutes on each side.
Serve scallops over the risotto and enjoy immediately.
Notes
Note that the scallops will pull away from the pan when they are cooked. Do not try moving the scallops prematurely or else you will not get the nice sear you are looking for.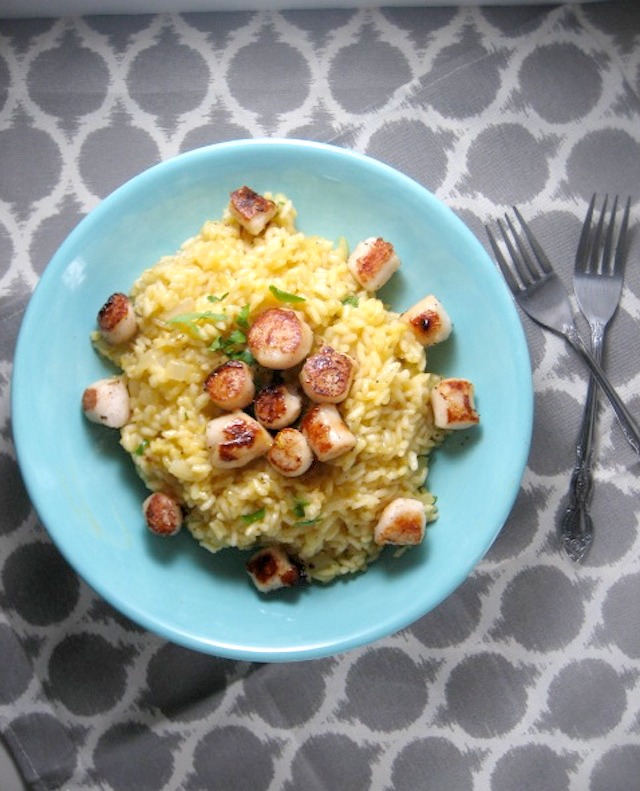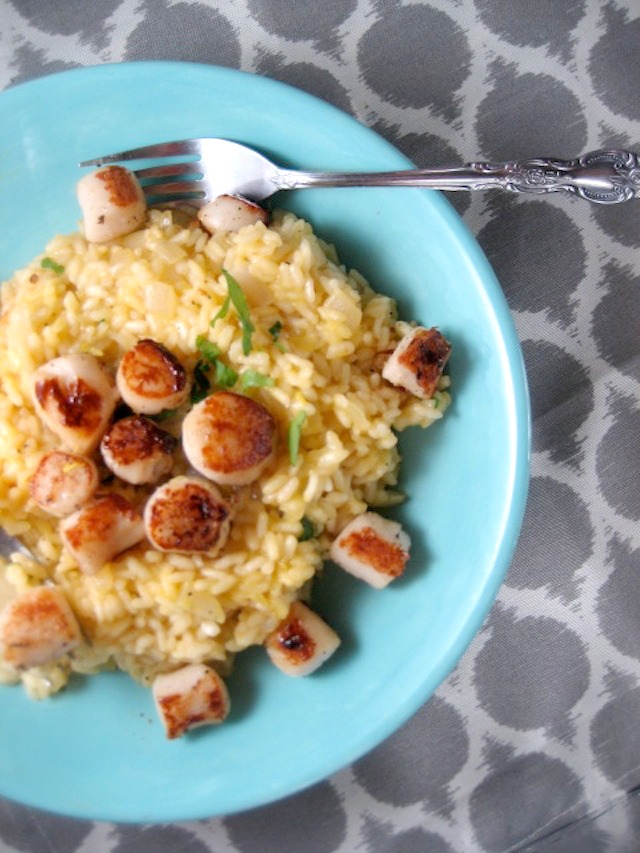 Since I've got y'all in a lovey-dovey mood, give a listen to "To Make You Feel My Love" by Billy Joel. I know Adele's version has been pretty popular these past few years, but Billy's is the first version I ever heard, and I think it's the best.
---
Pair this recipe with a cold and crunchy green bean salad like the one below. Click the picture for the recipe!