My earliest memories of chili are associated with my Mom and Dad's annual pumpkin carving party. It was a tradition that lasted about fifteen October's, and one that I looked forward to mainly because of the chili! My mom would simmer two types on the stove all day, and when our friends and family arrived, it was carvin' and chili time. I remember always planning some elaborate pumpkin carving plan or choose the most difficult stencil, only to be stunted by my lack of artistic ability. Sometimes my artistic Aunt Kate would come to the rescue and carve out that black cat or witch on a broom that I was struggling to carve. Although I had many pumpkin carving failures through the years, I always loved helping my mom prepare that chili by lending a hand to stir the two pots, or by opening up endless cans of beans.
The two chili's she would make were classic beef and kidney beans, and a white bean chicken chili with a can of light beer. This recipe isn't either of those (I promise to publish those soon!), but it is tasty and a lighter more healthier version of the typical stick-to-your-ribs chili. This recipe also wouldn't be here if it weren't for those parties, so thanks Ma!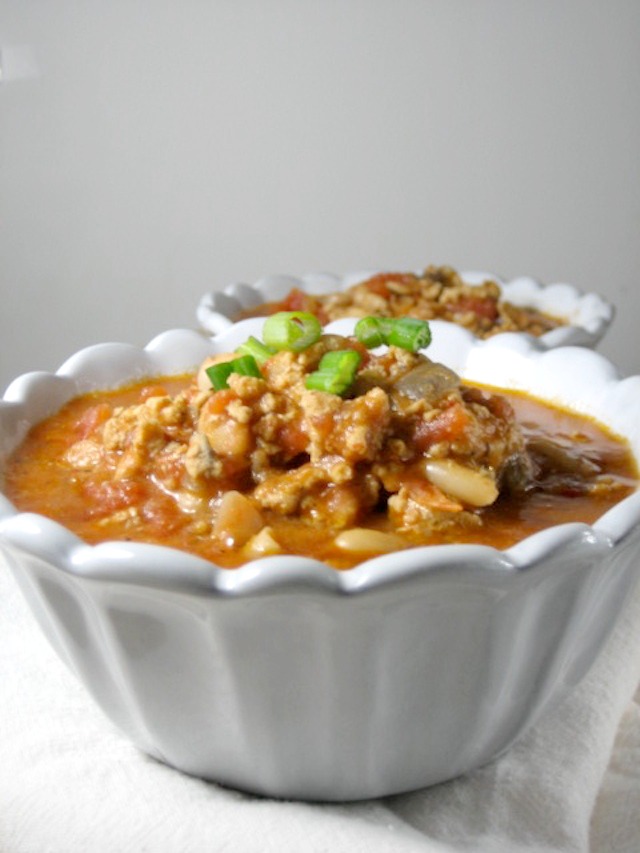 Since Bryan has been off of school because of snow, I had him whip this up last night so that when I got home from work it was ready. The turkey provides protein without the heaviness of ground beef, and the tomatoes and cannellini beans give it the perfect texture. If you find that the chili isn't tightening up or getting thick, you can make a slurry of flour and a little bit of water to get it to the right consistency. Just be sure to bring the chili to a boil and rigorously stir in the slurry and it will thicken right before your eyes!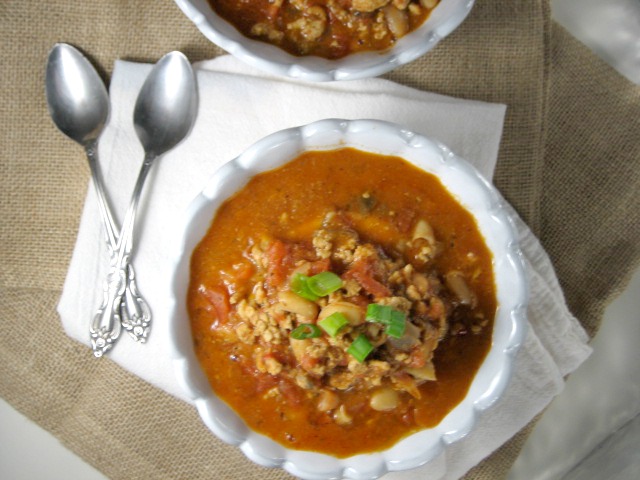 White Bean Turkey Chili
Author:
Keys to the Cucina
Ingredients
½ large red onion, chopped
3 tbs evoo
2 tbs salt
1 tbs black pepper
1 tbs garlic powder
1 lb ground turkey
1 can cannellini beans
1 can diced tomatoes
1 tsp smoked paprika
1-2 tsp crushed red pepper
1 tsp basil
1 tsp parsley
Dash of cumin
Instructions
In a large pot, saute evoo and onions for 5 minutes on medium.
Add the ground turkey and cook until no longer pink.
Season with the smoked paprika, red pepper, basil, and parsley.
Add in the beans, diced tomatoes, and a couple can fulls of water.
Cover and cook on low for 2-3 hours until it comes together to a thick and hearty chili.
Garnish with green onion and a sprinkle of cumin.