Spaghetti Aglio e Olio with Anchovies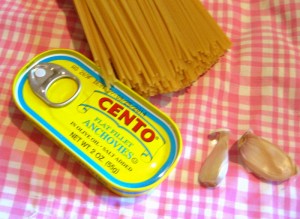 Author:
Keys to the Cucina
½ pound of spaghetti
1 2oz can anchovies
2 tbs extra virgin olive oil
2 cloves of garlic, minced
1 c vegetable stock
2 tsp crushed pepper
1 tbs fresh chopped parsley (curly or flat leaf)
Pinch of salt and pepper
Bring a pot of water to a boil (don't forget to salt your water!) and cook spaghetti just shy of done as it will continue to cook when you toss it in the sauce.
Next, coat a high-wall saute pan with the olive oil on medium heat.
Add garlic and can of anchovies and stir and break up anchovies and garlic so that they melt into the olive oil.
Once they are incorporated, add in vegetable stock a few tablespoons at a time and stir.
Add in the crushed pepper and parsley.
Cook for 20 minutes and then toss spaghetti for two minutes in sauce so that it soaks up all of the goodness.
Season with salt and pepper to taste and enjoy!
Recipe by
Keys to the Cucina
at https://keystothecucina.com/2014/01/15/spaghetti-aglio-with-anchovies/