Quick Asian Green Beans with Soy Sauce Teriyaki & Sesame Seeds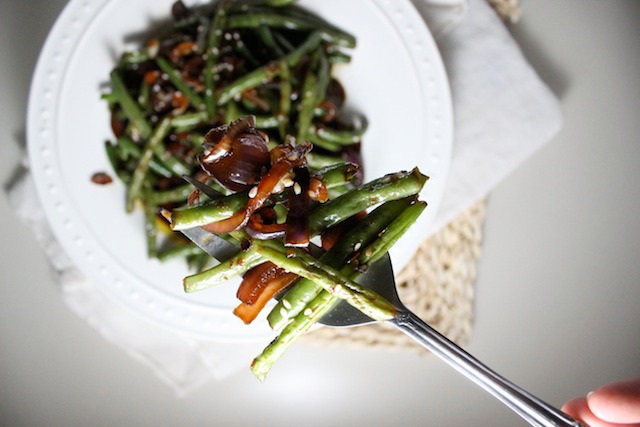 Author:
Keys to the Cucina
1 lb green beans, trimmed
1 tbs extra virgin olive oil
½ red onion, sliced
2 garlic cloves, sliced
1 tbs grated ginger
3 tbs soy sauce
3 tbs teriyaki sauce
1 tsp crushed red pepper
Pinch of salt
1 tsp sesame seeds
Bring a pot of water to a boil. Once boiling, throw in the trimmed green beans and blanch for three minutes. Drain and set aside.
In a large saute pan, heat evoo, garlic and red onion on medium for three minutes. Add the ginger and 1 tbs each of soy and teriyaki sauce. Reduce heat to medium low and cook an additional three minutes.
Toss in the blanched green beans, crushed pepper, and remaining soy and teriyaki sauce and a pinch of salt. Cook the beans on medium for five minutes or until tender.
Serve on your favorite dish and garnish with sesame seeds.
Recipe by
Keys to the Cucina
at https://keystothecucina.com/2014/07/18/easy-green-beans-with-garlic-soy-sauce-teriyaki-sesame-seeds/