5 Ingredient Red Cabbage and Granny Smith Apple Slaw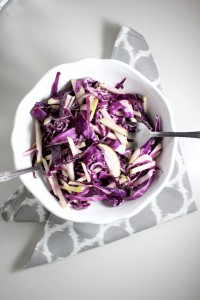 Author:
Keys to the Cucina
½ half red cabbage sliced thin
1 granny smith apple
⅓ apple cider vinegar
2 tbs honey
½ tsp black pepper
Slice the cabbage and the granny smith apple into matchstick pieces. Place in a large mixing bowl and set side.
In a small bowl, combine the vinegar, honey and black pepper and whisk to incorporate. Pour over the cabbage and apple mixture and toss lightly to incorporate.
Serve immediately or refrigerate for 1-2 hours. Top on pulled pork, chicken, or enjoy it solo as a side dish accompaniment.
Recipe by
Keys to the Cucina
at https://keystothecucina.com/2014/07/01/5-ingredient-red-cabbage-and-granny-smith-apple-slaw/