Cabbage Wraps with Mango Quinoa, Teriyaki Shrimp & Cilantro Pesto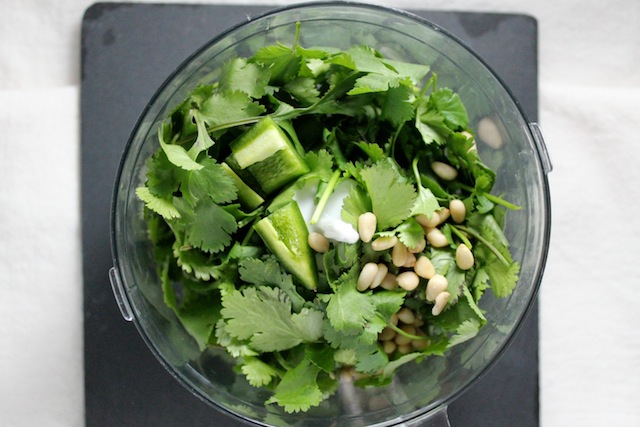 Author:
Keys to the Cucina
Shrimp:
10 shrimp, peeled and deveined
1 tbs soy sauce
2 tbs teriyaki sauce
1 clove garlic, minced
1 tsp ginger, chopped
1 tbs chopped jalapeno
Pinch of salt
Cilantro Pesto:
1 c cilantro
1 handful pine nuts
¼ of a jalapeno
½ clove garlic
½ tsp salt
1 tsp fresh lime juice
½ c extra virgin olive oil
Quinoa:
1 c cooked quinoa
10 radishes, thinly sliced
1 mango, diced
2 big splashes of extra virgin olive oil
4 green cabbage leaves
To marinate shrimp, combine all ingredients in a bow and let sit for 30 minutes.
For cilantro pesto, pulse all ingredients together in a food processor, set aside.
Cook quinoa, let cool and then stir in radishes, mango, and evoo. Stir in half of the cilantro pesto.
To cook the shrimp, heat splash of evoo on medium in a pan, and cook shrimp for 90 seconds on each side.
To assemble the wraps, layer about ¼ cup of quinoa in each wrap, top with the shrimp and drizzle with cilantro pesto.
Recipe by
Keys to the Cucina
at https://keystothecucina.com/2014/02/28/cabbage-wraps-with-mango-quinoa-teriyaki-shrimp-and-cilantro-pesto/