Clams Casino with Bacon Breadcrumbs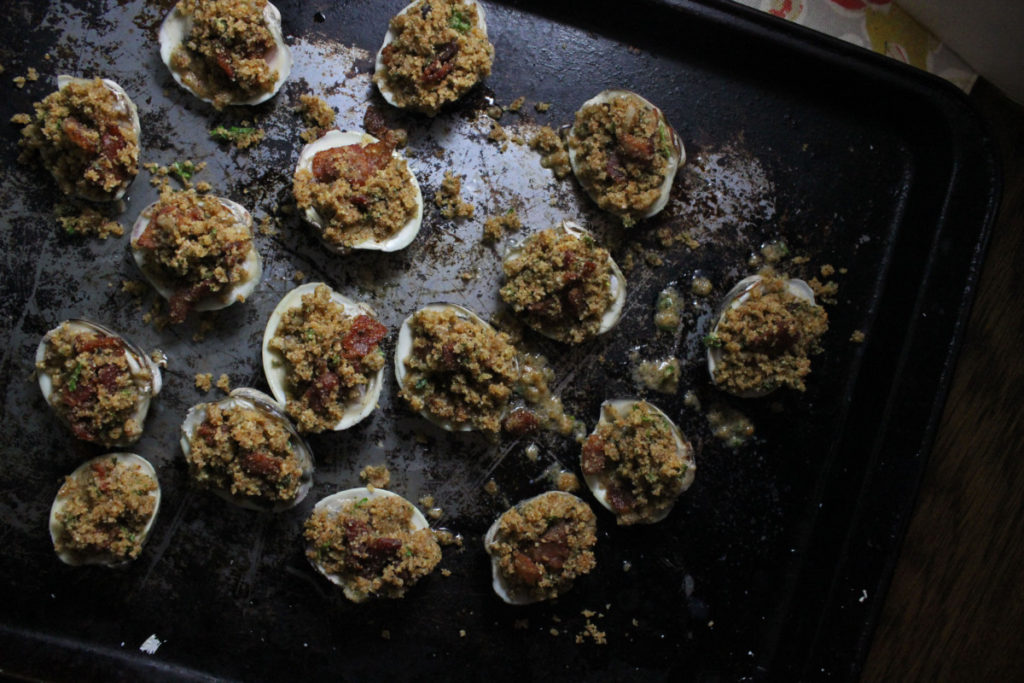 2 dozen shucked little neck clams
2 pieces of bacon, chopped
1 Tbs extra virgin olive oil
2 cloves of garlic, minced
1 c Italian breadcrumbs
¼ tsp cayenne pepper
Parsley for garnish
Preheat oven to 400.
In a saute pan, cook the bacon on medium until the fat is rendered and it becomes crispy, about 3 minutes. Remove the bacon with a slotted spoon and reserve the bacon fat in the pan.
With the heat on medium low, add in the evoo and finely minced garlic. Let the garlic cook for 2 minutes in the bacon fat, stirring constantly.
Add in the breadcrumbs and cayenne pepper. Stir until the breadcrumbs soak up all of the bacon fat and resemble wet sand.
Stuff each clam with 1 teaspoon of the bacon breadcrumbs and arrange on a large sheet pan. Bake for 10 minutes until the breadcrumbs are golden brown and garnish with parsley.
Recipe by
Keys to the Cucina
at http://keystothecucina.com/2016/07/25/clams-casino-with-bacon-breadcrumbs/