Stuffed Artichokes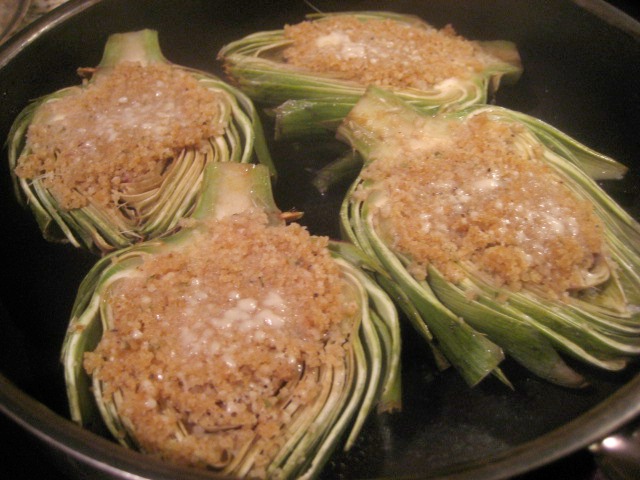 Author:
Keys to the Cucina
Recipe type:
Side Dish/Appetizer
2 whole artichokes
4 heaping table spoons Italian breadcrumbs
3 tbs parmesean cheese
1 tbs extra virgin olive oil
1 tsp salt
1 tsp pepper
Dash of garlic powder
Prepare artichokes by rinsing under water to get any grit out of leaves.
Dry and cut off about ½ inch of the woody stem, and cut the artichoke in half from top to stem.
Scoop out the "choke" or fuzzy parts of the artichoke to make a well for the filling.
In a separate bowl, combine breadcrumbs, parmesean, evoo, salt, pepper, and dash of garlic. *You want this mixture to resemble wet sand, so just add enough evoo until you get you there.
Stuff each artichoke half with about a tablespoon of this mixture and make sure to press hard to secure that delish stuffing.
Place one inch of water in a high-wall saute pan. Place artichokes in pan and drizzle with additional evoo and a sprinkle of parmesean cheese.
Cook for about an hour on low heat, with the top on.
Make sure to check on water level every 15 minutes, as you want to make sure they're sitting in an inch of water during the whole cooking process.
Artichokes are finished when the outer leaves pull away and are tender.