Linguine with Sauteed Squid, Olives and Capers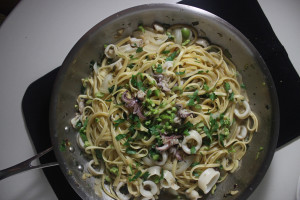 Author:
Keys to the Cucina
1 lemon
4 cloves garlic, minced
½ onion, sliced
1 tsp crushed red pepper
1 tsp salt
½ lb linguine
15 castelveltrano olives, pitted and chopped
2 Tbs capers
½ c chopped flat leaf parsley
¼ c white wine
½ lb cleaned sliced calamari
4 ladles of pasta cooking water
Marinate calamari rings in zest of one lemon and a pinch of salt and pepper and set aside.
In a large saute pan, saute onions and garlic. Season with salt and crushed red pepper and cook for 5 minutes on medium. Add in the olives and capers and half of the chopped parsley.
Get your water boiling with a big handful of kosher salt added to it.
Deglaze pan with white wine and cook on high for 2 minutes, stirring to get all the bits off of the bottom of the pan.
Toss in the calamari and cook for 3 minutes.
Add in the pasta plus additional pasta cooking liquid as you see fit (I used 4 ladles) and saute for 2 minutes until all flavors are married.
Finish with juice of ½ lemon and additional parsley and enjoy immediately.
Recipe by
Keys to the Cucina
at http://keystothecucina.com/2015/07/15/linguine-with-sauteed-squid-olives-and-capers/