Risotto with Roasted Poblanos, Cherry Tomatoes and Shrimp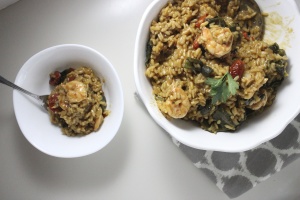 Author:
Keys to the Cucina
4 poblano peppers
15 cherry tomatoes
2 tbs extra virgin olive oil
1 tsp salt
1 tsp pepper
3 tbs extra virgin olive oil
½ onion, chopped
1 c arborio rice
3 c vegetable broth
20 shrimp, peeled and deveined
Juice of ½ lemon
½ tsp salt
½ tsp pepper
⅛ tsp cayenne pepper
½ tsp parsley
Preheat oven to 400.
Place shrimp in a bowl and drizzle with lemon juice and salt, pepper, cayenne and parsley. Let it marinate while you do the following steps.
Lay the whole poblano peppers and cherry tomatoes on a sheet pan and drizzle with evoo and season generously with salt and pepper. Roast for 20 minutes.
Remove from the oven and place just poblano peppers in a bowl with plastic wrap and let sit. The plastic wrap will make it easier to peel the skin from the peppers. Place tomatoes in a large bowl and set aside.
On medium heat, place evoo in large pan and cook onions for 5 minutes. Add in the arborio rice, and toast up for about 2 minutes, constantly stirring. Season with a generous pinch of salt and pepper.
Lower heat to medium low and slowly pour in vegetable broth and keep stirring.
Once broth is absorbed, add more in, and keep stirring/adding broth until you run out of liquid and the rice is cooked, about 25 minutes.
Remove the risotto from the pan and cook the shrimp for 90 seconds on each side on medium heat.
To assemble the dish, peel the skin from the poblano peppers and roughly chop. Mix with the risotto and cherry tomatoes and top with the shrimp.
Recipe by
Keys to the Cucina
at http://keystothecucina.com/2014/11/25/risotto-with-roasted-poblanos-cherry-tomatoes-and-shrimp/