Honey Hot Sauce Baked Chicken Wings with Cilantro and Garlic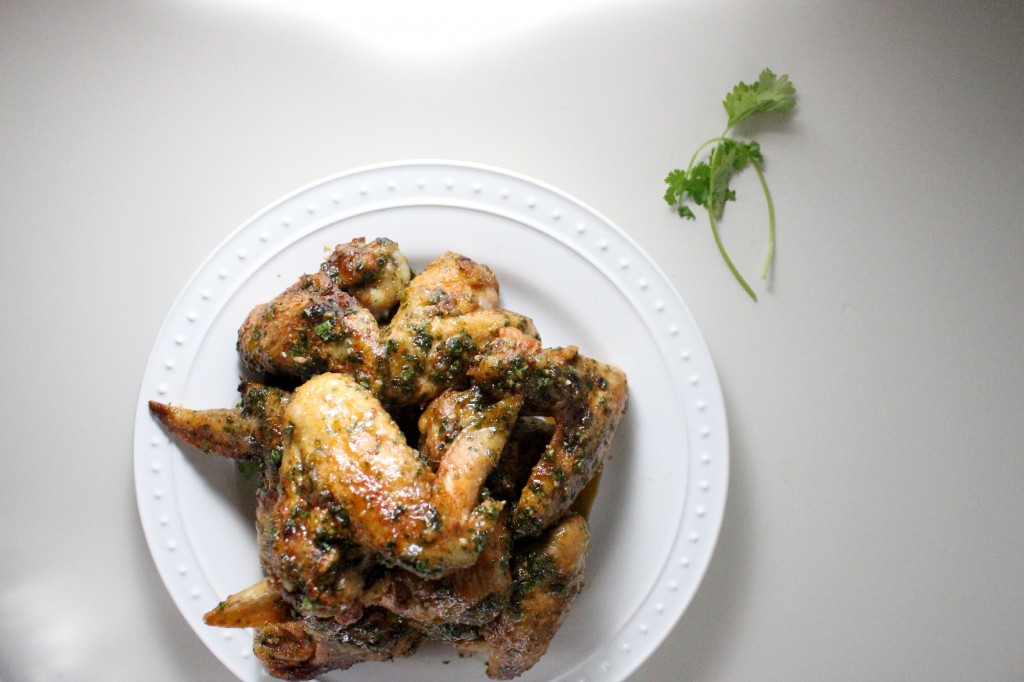 Author:
Keys to the Cucina
10 chicken wings
½ c flour
1 tsp salt
1 tsp smoked paprika
3 tbs honey
4 tsp hot sauce
2 cloves garlic
1½ c fresh cilantro
½ tsp cayenne
Preheat oven to 400.
Combine flour, salt and smoked paprika in a large bowl. Pat chicken wings dry and toss one wing at a time in the flour mixture. Shake off excess flour and place on a sheet pan with a wire rack on it.
Cook for 45 minutes then broil the last 3-5 minutes of cooking to get them nice and crispy.
While wings are cooking, heat up the honey in a bowl in the microwave for 10 seconds. This will make it easier to work with and mix into the hot sauce. Combine your favorite brand of hot sauce into the honey and mix thoroughly.
In a food processor combine garlic, cilantro and cayenne and rough chop them. Set aside.
When the wings come out of the oven, toss them in a large bowl (a few at a time) with the honey mixture until well coated. Finish by sprinkling the cilantro mixture over the sticky wings and serve immediately with your favorite beer.
Recipe by
Keys to the Cucina
at http://keystothecucina.com/2014/09/18/baked-chicken-wings-with-honey-hot-sauce-cilantro-and-garlic/