Pan Seared Steak with Balsamic and Basil Cherry Tomatoes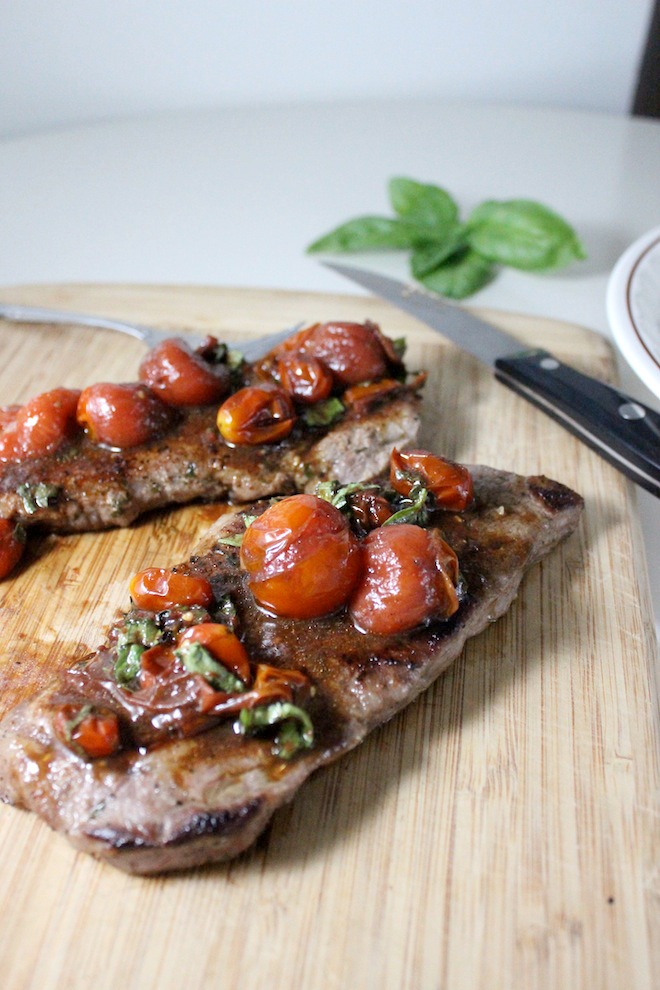 Author:
Keys to the Cucina
2 c cherry tomatoes
3 tbs good balsamic vinegar
1 handful fresh basil, chopped
2 New York Strip steaks
½ tsp salt
½ tsp black pepper
½ tsp garlic powder
Extra virgin olive oil
Preheat oven to 400. In a bowl, add tomatoes, a 1 tablespoon of evoo, the balsamic vinegar and a generous 1 tsp of salt and pepper. Place on a sheet pan and roast for 20 minutes until the tomatoes just burst.
Once cooked, place in a glass bowl to cool, add in the chopped basil and set aside.
Season both sides of the steaks with the salt, black pepper and garlic powder.
In a saute pan, cover the bottom of it with a thin layer of evoo (about 2 teaspoons). Heat the pan on high, until it begins to smoke. Once it begins to smoke, reduce heat to medium high and place steaks in, do not touch them until you're ready to flip them. Depending on thickness, they should take 2-4 minutes per side. Mine were about ½ inch thick so I cooked for 2 minutes per side and then I let them rest for 10 minutes.
Once the steaks are rested, spoon the balsamic cherry tomato mixture over them and serve immediately.
Recipe by
Keys to the Cucina
at http://keystothecucina.com/2014/07/31/pan-seared-steak-with-balsamic-and-basil-cherry-tomatoes/