Broccoli Salad with Bacon, Walnuts Raisin and Greek Yogurt Dressing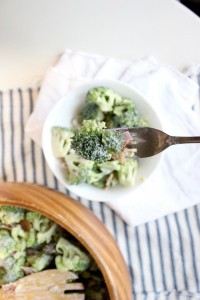 Author:
Keys to the Cucina
1 large head of broccoli (or 2 small heads)
½ cup red onion, chopped
½ c raisins
½ c walnuts, chopped
½ lb fried bacon
1 cup greek yogurt
2 tsp sugar (more or less depending on how sweet you like it)
2 tsp white vinegar
Preheat oven to 350. Place the bacon slices on wire rack over a sheet pan and cook for 15 minutes or until crispy. Drain on paper towels and set aside.
In a small bowl, combine greek yogurt, sugar and vinegar together and set aside.
In a large mixing bowl combine cut up broccoli, red onion, raisins, walnuts and crumbled bacon. Pour dressing over and mix to thoroughly incorporate. Serve cold and enjoy!
Recipe by
Keys to the Cucina
at http://keystothecucina.com/2014/06/17/broccoli-salad-with-bacon-walnuts-raisins-and-greek-yogurt-dressing/