Spinach Mushroom and Parmesan Strata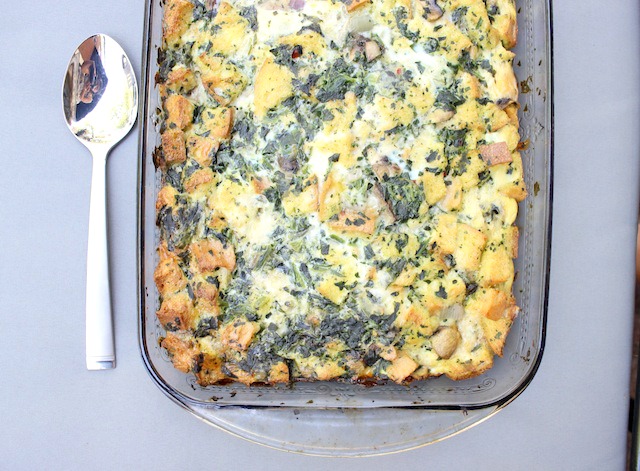 Author:
Keys to the Cucina
1 half of a french baguette, diced into ½ inch pieces
12 eggs
¼ c heavy cream
2 tbs extra virgin olive oil
2 cloves garlic, minced
½ red onion
1 10 oz package frozen spinach
1 tsp basil
1 tsp crushed red pepper
1 tsp parsley
1 tsp salt
1 tsp pepper
8 oz chopped mushrooms
½ c mozzarella cheese
½ c parmesan & asiago cheese
Cut baguette into ½ inch piece and set aside.
In a large bowl, whisk together eggs and heavy cream. Add a pinch of salt and pepper then set aside.
In a large saute pan, on medium heat, add the evoo and saute the garlic and onions for 3-4 minutes until they become soft. Add the spinach, basil, crushed pepper, parsley, salt and pepper and cook for 3 minutes. Toss in the chopped mushrooms and cook for another 3 minutes then set aside.
To assemble the strata, add the bread and the mushroom and spinach mixture to fully incorporate.
In a large pyrex baking dish, add in half of the bread mixture, then layer with half of the eggs and cheese. Add the rest of the bread mixture and eggs then top it off with the remaining cheese. With a wooden spoon or spatula press down on the mixture to fully immerse the bread into the eggs.
Refrigerate for 12-24 hours to let the bread soak up all of the egg mixture.
The next day, preheat the oven to 350 and bake for 45 minutes or until it becomes golden and a toothpick comes out clean.
Recipe by
Keys to the Cucina
at http://keystothecucina.com/2014/05/27/spinach-mushroom-and-parmesan-strata/