Roasted Chicken with Baby Leeks, Lemon and Garlic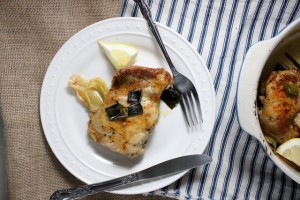 Author:
Keys to the Cucina
4 chicken thighs (can use chicken breasts)
3 baby leeks
1 lemon
1 tsp salt
1 tsp black pepper
1 tsp parsley
½ tsp cayenne
4 tbs extra virgin olive oil
4 garlic cloves
Preheat oven to 350.
Clean leeks with a damp paper towel to remove any residual dirt. Slice two of the leeks lengthwise and chop one of the leeks. Set aside.
Drizzle the juice of ½ of the lemon a little evoo onto the chicken thighs. Season generously on all sides with the salt, pepper, parsley and cayenne.
Place the two leeks chopped long ways cut side down onto the baking dish. Then place whole peeled garlic. Lastly, top with the chicken.
Cut the half of the lemon that you used into pieces and place around dish along with the chopped leek you set aside earlier.
Bake for 1 hour or until golden, top with the remaining half of the lemon and serve with a nice crusty baguette.
Recipe by
Keys to the Cucina
at http://keystothecucina.com/2014/05/07/roasted-chicken-with-baby-leeks-lemo-and-garlic/