Cold Green Bean Salad with Cherry Tomatoes, Red Onion, Oregano & Red Wine Vinaigrette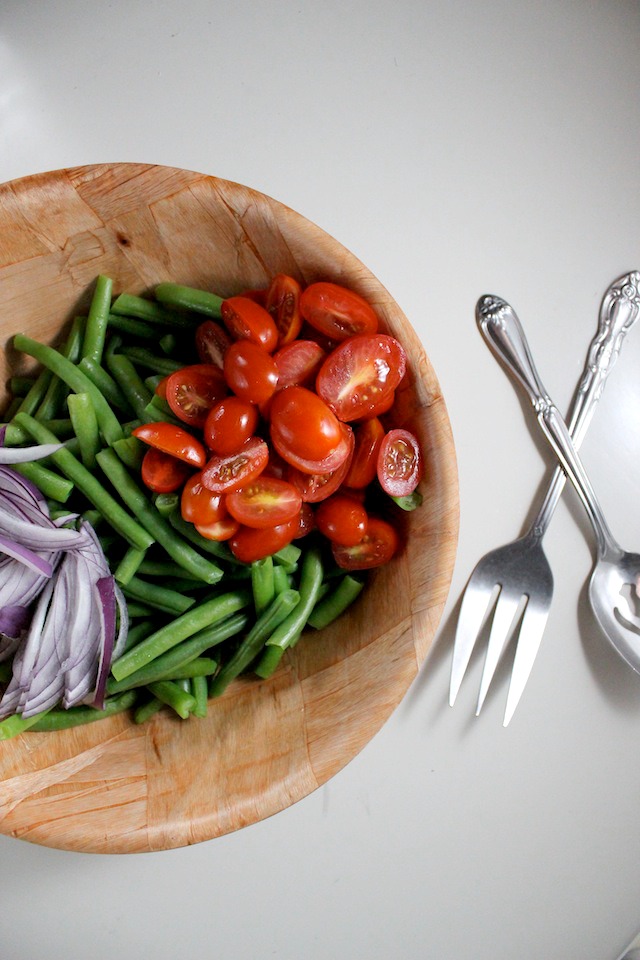 Author:
Keys to the Cucina
1lb green beans, trimmed
20 cherry tomatoes, halved long ways
¼ red onion, sliced thin
1 tsp red wine vinegar
3 tbs extra virgin olive oil
Dash of salt
¾ tsp dried oregano
Bring a pot of water to a boil.
Once it comes to a roaring boil, drop in the green beans.
Cook for three minutes, and drain into an iced water bath to shock the vegetables. This will keep their color bright and ensure they stay crunchy. Remove from water bath after about thirty seconds.
Combine red wine vinegar, evoo and salt in a bowl. Whisk together until incorporated.
Combine the green beans, tomatoes and red onion, and toss in the vinaigrette.
Finish with the oregano and serve cold.
Recipe by
Keys to the Cucina
at http://keystothecucina.com/2014/03/20/cold-green-bean-salad-with-cherry-tomatoes-red-onion-oregano-red-wine-vinaigrette/