Jambalaya with Turkey Kelbasa, Chicken and Shrimp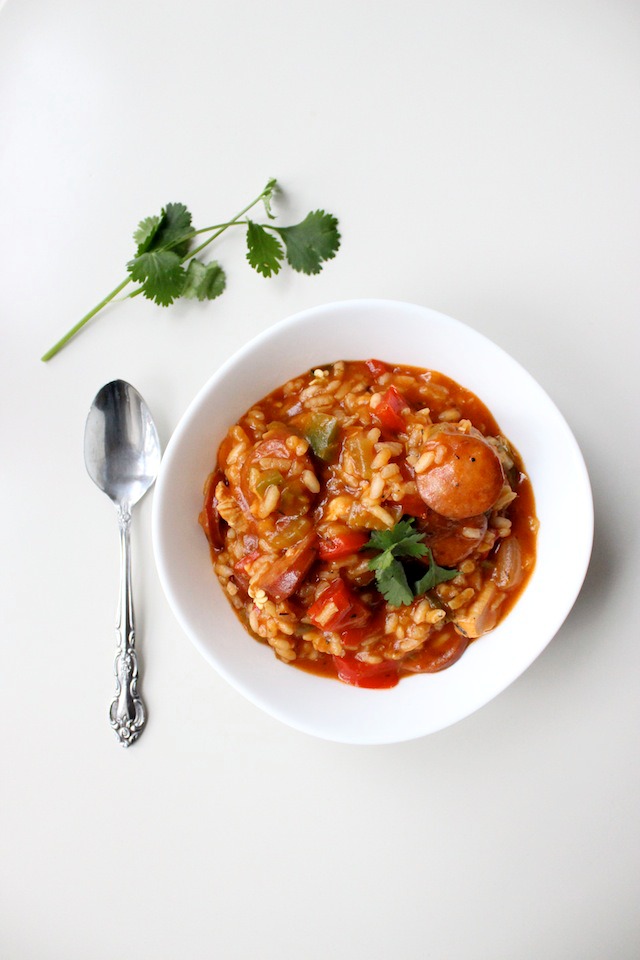 Author:
Keys to the Cucina
14 oz turkey kelbasa, sliced thin
2 chicken breasts
2 tbs evoo
1 yellow onion, diced
2 stalks celery, diced
1 green bell pepper, chopped
1 red bell pepper, chopped
2 jalapenos, finely diced
2 tsp salt
1 tsp thyme
1 tsp oregano
1 c white wine
1 bay leaf
1 14.5 oz can of diced tomatoes
1 6 oz can tomato paste
4½ c chicken stock
1½ c arborrio rice
20-25 shrimp, peeled and deveined
Hot sauce for topping
In a pot, place 1 tbs evoo and brown kelbasa on medium heat for 10 minutes. Remove from pot with slotted spoon and set aside.
Add 1 tbs evoo, salt and pepper the chicken breasts and place them in the pan. Brown for five minutes on each side then set aside.
Toss the onion, celery, and all the peppers in the pot and add salt, thyme, and oregano. Cook on medium to medium low for 10 minutes.
Deglaze pan with white wine and cook for about two minutes. Add bay leaf, diced tomatoes, and tomato paste.
Cook for an additional two minutes on medium. Cut up chicken breasts into bite size pieces, add kelbasa, chicken stock and rice and bring to boil.
Once boiling, cover and simmer on low for 20 minutes.
Toss in the shrimp during the last few minutes of cooking right before serving.
Top with fresh parsley to serve and enjoy!
Recipe by
Keys to the Cucina
at http://keystothecucina.com/2014/03/04/jambalaya-with-turkey-kelbasa-chicken-and-shrimp/