Israeli Couscous and Shrimp with Avocado Cilantro Lime Dressing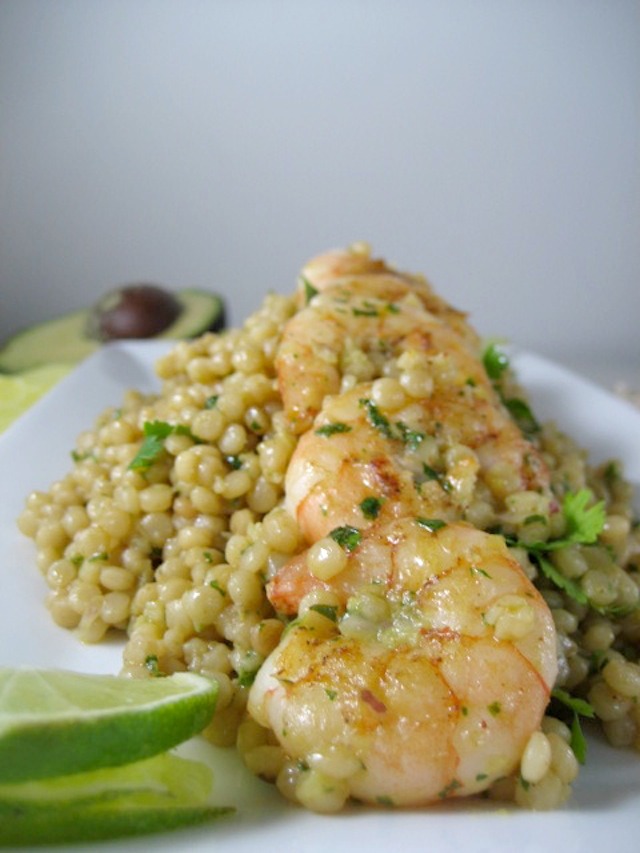 Author:
Keys to the Cucina
6 oz Israeli couscous (sometimes called pearl couscous)
1 tbs extra virgin olive oil
1½ c vegetable stock
10 shrimp, peeled and deveined
¼ tsp garlic powder
¼ tsp chili powder
¼ tsp salt
¼ tsp pepper
Dressing:
⅓ c extra virgin olive oil
1 tbs chopped red onion
1 tsp lime juice
1 tsp red wine vinegar
1 handful cilantro
¼ avocado
½ tsp chili powder
Dash of salt and pepper
In a pot, add evoo and couscous. Cook on medium for 3 minutes to lightly toast couscous.
Add vegetable broth, bring to boil, and simmer on low for 10-12 minutes or until couscous is tender.
In a food processor, add all of the ingredients for the dressing except the evoo. Pulse until ingredients are finely chopped then stream in evoo. Set aside.
In a small bowl, combine the shrimp and seasonings from the garlic powder to the pepper. Mix well so that shrimp is covered in spices.
Add a drizzle of evoo to a saute pan and heat on medium.
Place shrimp in pan, and cook for 2 minutes on each side.
Immediately remove from the heat and combine all ingredients in a bowl (couscous to dressing to shrimp).
Can be served warm or cold.
Recipe by
Keys to the Cucina
at http://keystothecucina.com/2014/02/06/israeli-couscous-and-shrimp-with-avocado-cilantro-lime-dressing/