Vegetable Fried Rice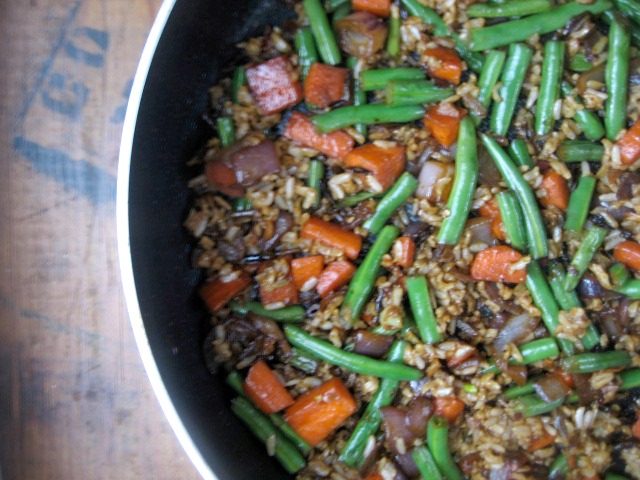 Author:
Keys to the Cucina
3 c cooked riece (jasmine, basmati, wild, or anything you have on hand)
2 tbs extra virgin olive oil
1 large onion, diced
1 large carrot, diced
½ lb string beans, cut in thirds
3 tbs fresh grated ginger
2 cloves garlic, minced
4 tbs soy sauce
2 tbs teriyaki sauce
1 tbs crushed red pepper
Cook your rice according to instruction.
In a large saute pan, saute the onion, carrot, string beans and grated ginger with the olive oil for 5 minutes on medium.
Add the garlic and cook an additional 3 minutes.
Pour in the soy sauce, teriyaki, and crushed pepper.
Lower the heat to medium low and let the flavors cook together for 5 minutes.
Add the rice and coat it with the vegetable mixture, and cook an additional 5 minutes.
Serve immediately in a bowl or on top of chicken.