Skillet Pizza with Roasted Tomato Sauce and Pancetta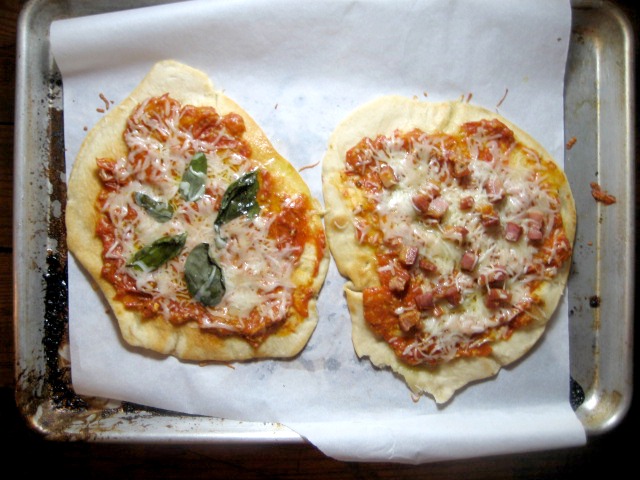 Author:
Keys to the Cucina
1 pizza dough, cut in two
1 pint cherry tomatoes
4 cloves of garlic, smashed but kept in the paper
2 tbs extra virgin olive oil
1 tsp salt
1 tsp pepper
½ c mozzerella or your favorite italian cheese
8 pieces of basil
⅛ lb pancetta, diced into cubes
Preheat oven to 375.
In a bowl, combine tomatoes, garlic, evoo, and salt and pepper.
Place on a sheet pan and roast for 30-40 minutes or until the tomatoes burst the garlic cloves become golden.
Add the pancetta to a frying pan and cook on medium for 5-7 minutes until it is crispy and the fat has rendered.
Roll out each half of the dough to about ⅛ inch thick. Make sure to roll it out in a shape that can fit in your frying pan.
Place the dough into the frying pan with the pancetta fat and cook on medium-high heat.
Add additional olive oil if needed. Fry on each side until golden brown.
Take the tomatoes and garlic out of the oven. Remove the garlic from the paper and mash the tomatoes and garlic together with a fork. Add additional salt and pepper if needed.
To assemble the pizzas, add the sauce, cheese and basil and pancetta.
Bake on in the oven on 375 for 3-5 minutes until golden and bubbly.
Recipe by
Keys to the Cucina
at http://keystothecucina.com/2013/11/05/skillet-pizza-with-roasted-tomato-sauce-and-pancetta/