Raise your hand if you eat chicken 2 or more times a week? Sadly, we are in that boat because it is healthy and an affordable addition to our fridge week after week. With that said, it is so easy to get into a rut with my chicken recipes so I used a packet of warm Spanish spices from The Spanish Tin that I got from my Hatchery box, and that is how this little guy was born.
Olives are something that I've always wanted to combine with chicken and when I get home from work they are my go to snack. I pick up a tub of them from the olive bar almost every Sunday and I just can't get enough (read: by Wednesday they are all gone)! I knew that their salty and briney flavor would play well with the spice mix that included seasonings like cinnamon, cumin, tumeric and cardamom. The tomatoes lend a note of acidity to the hearty spices on the chicken and they help to create a broth that is good enough to drink.
In true Alexe style, I didn't have brick lying around so I used a couple of 28 ounce cans of crushed tomatoes wrapped in foil to weigh the chicken down and ensure the skin got nice and crispy! All in all this guy is a winner and a great meal to pair with this never ending winter we are experiencing!
Cooking with Hatchery - Spanish Style "Brick" Chicken with Tomatoes and Olives
Ingredients
1 roasting chicken, split in two
2 tsp salt
1 tsp pepper
1 tsp parsley
1 tsp garlic salt
2 Tbs Far East Spain Blend
10 cherry tomatoes, halved
½ onion, chopped
½ c mixed olives, rough chopped
¼ c chicken broth
Instructions
Preheat oven to 400.
Rub down the chicken on both sides with the salt, pepper, parsley, garlic salt and Far East Spain Blend.
In a large skillet, heat olive oil on high until smoking. Lower heat to medium high and place chicken in skin side down. Place a brick with foil on the chicken (or a few cans of tomatoes wrapped in foil to weigh it down).
Cook chicken for 4 minutes on each side then transfer to oven, skin side up. Add in the cherry tomatoes, onions, olives and chicken broth, surrounding the chicken.
Cook for 40-50 minutes or until the chicken reaches 180 degrees.
Let it rest for 10 minutes before carving and enjoy with my recipe for cumin roasted carrots and parsnips.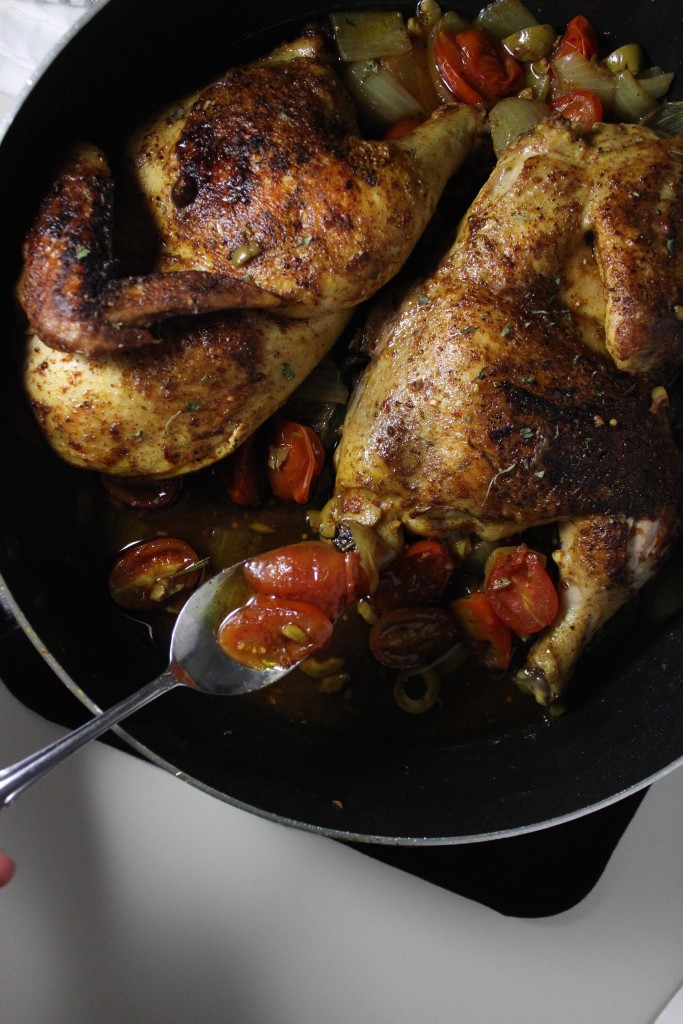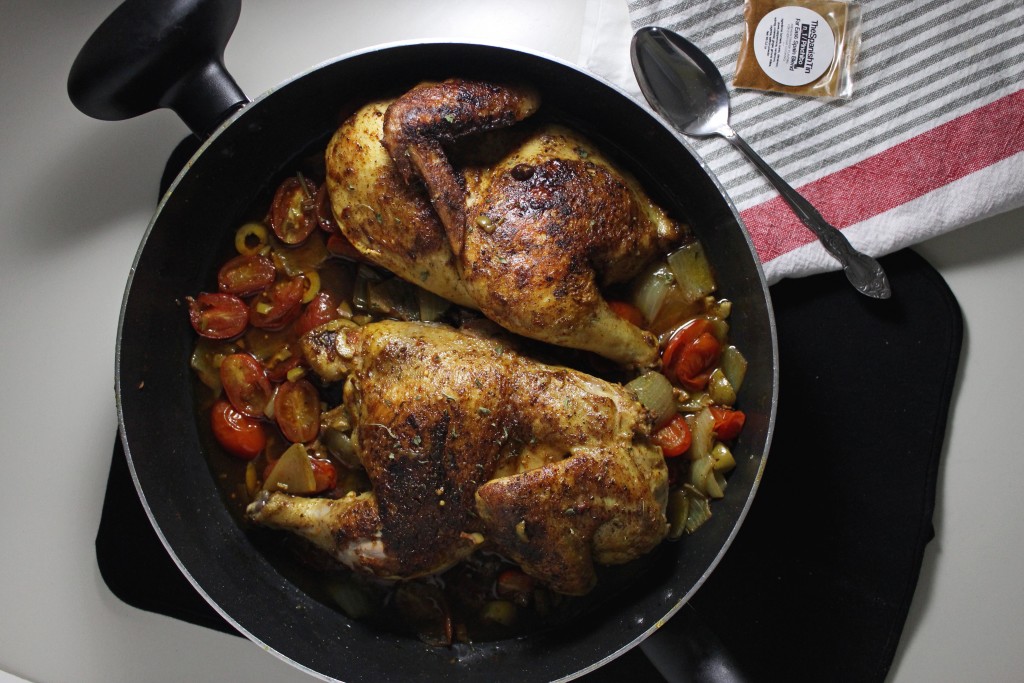 I recently discovered this artist on Spotify and I am obsessed with his soulful and R&B sound. This song will have you toe tapping at your desk, I guarantee it!
Disclaimer: I received a free box from Hatchery but all opinions are my own.
---
Sign up and subscribe HERE to Keys to the Cucina and receive notifications when a new post goes live!