Ever wanted to recreate restaurant pizza at home? Well, I did and I couldn't be more excited to share my little secret with you. One of my favorite restaurants in my neighborhood, 7th Hill Pizza, sells their dough so that you can take it home and whip up any creation you please. I am always on the hunt for dough that I can roll out thin to get a crispy texture, and this one certainly fits the bill. I took a page from this recipe and picked up some pancetta from Canales Deli inside the market and set off to make my first skillet pizza.
I always like to talk about what I've been cooking lately with my Mom, and one night I excitedly told her about this skillet pizza. Much to my surprise, she proceeded to tell me that she used to make these all the time when I was little. Though I didn't have a childhood memory to guide me through this dish, I forged ahead and made something perfect for a dinner for two or great for an appetizer.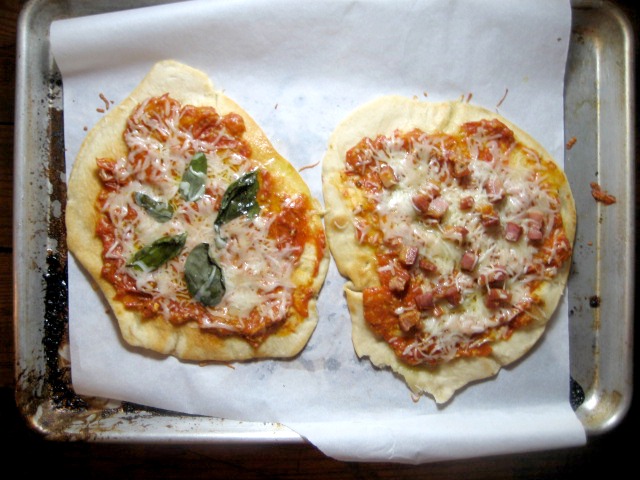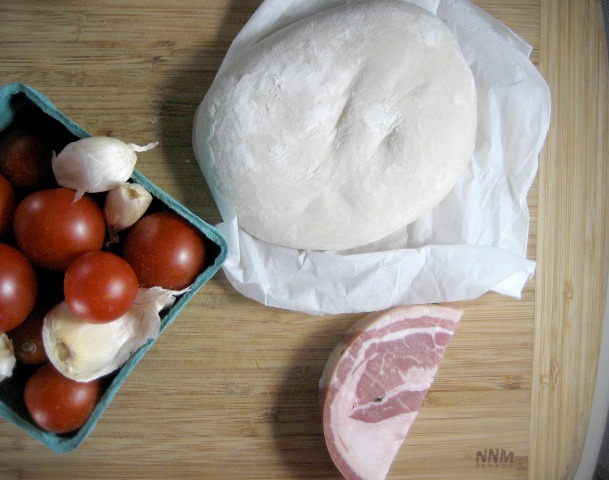 I used my quick tomato sauce found in this recipe as my base for the pizza. I plucked some basil leaves from my garden that were on the verge of going south because of the cooler weather, picked out some cheese and was on my way. I made two pies, one vegetarian with just basil and cheese, and the other topped with crunchy pancetta. Pancetta is Italian cured pork and tastes a little like bacon, though it is not smoked like bacon is. I crisped up the pancetta in a frying pan, took out the pieces with a slotted spoon and then fried up my dough in the pancetta fat. Scandalous, I know, but it was worth every ounce of flavor. I can happily say 7th Hill will be my pizza dough go to – I've even got a dough ball chilling in my freezer just waiting for my next concoction!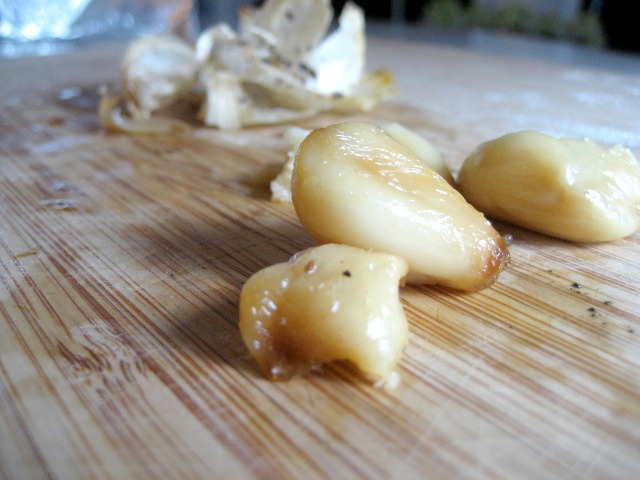 Skillet Pizza with Roasted Tomato Sauce and Pancetta
Author:
Keys to the Cucina
Ingredients
1 pizza dough, cut in two
1 pint cherry tomatoes
4 cloves of garlic, smashed but kept in the paper
2 tbs extra virgin olive oil
1 tsp salt
1 tsp pepper
½ c mozzerella or your favorite italian cheese
8 pieces of basil
⅛ lb pancetta, diced into cubes
Instructions
Preheat oven to 375.
In a bowl, combine tomatoes, garlic, evoo, and salt and pepper.
Place on a sheet pan and roast for 30-40 minutes or until the tomatoes burst the garlic cloves become golden.
Add the pancetta to a frying pan and cook on medium for 5-7 minutes until it is crispy and the fat has rendered.
Roll out each half of the dough to about ⅛ inch thick. Make sure to roll it out in a shape that can fit in your frying pan.
Place the dough into the frying pan with the pancetta fat and cook on medium-high heat.
Add additional olive oil if needed. Fry on each side until golden brown.
Take the tomatoes and garlic out of the oven. Remove the garlic from the paper and mash the tomatoes and garlic together with a fork. Add additional salt and pepper if needed.
To assemble the pizzas, add the sauce, cheese and basil and pancetta.
Bake on in the oven on 375 for 3-5 minutes until golden and bubbly.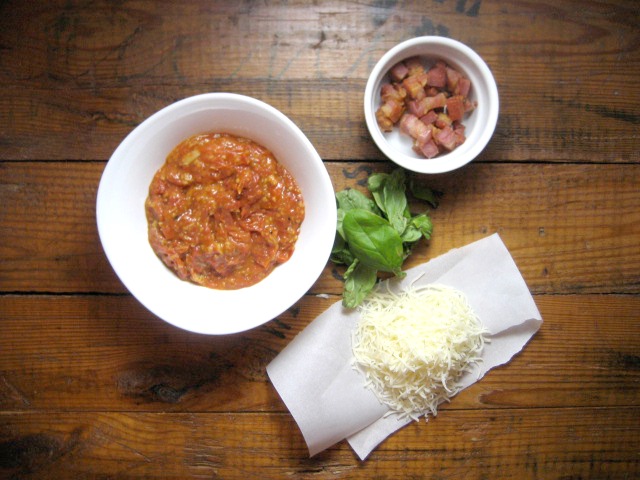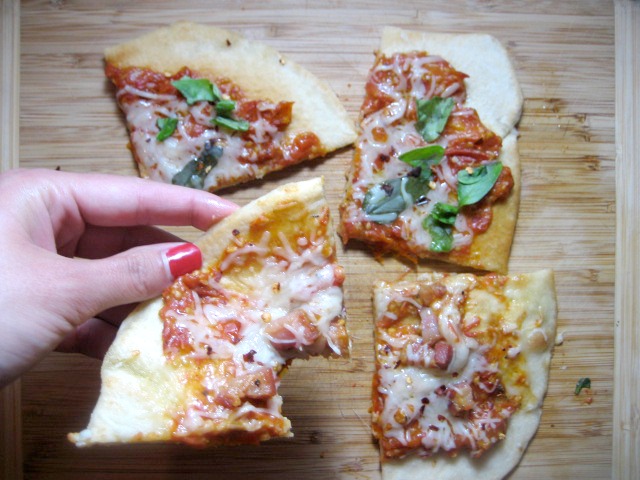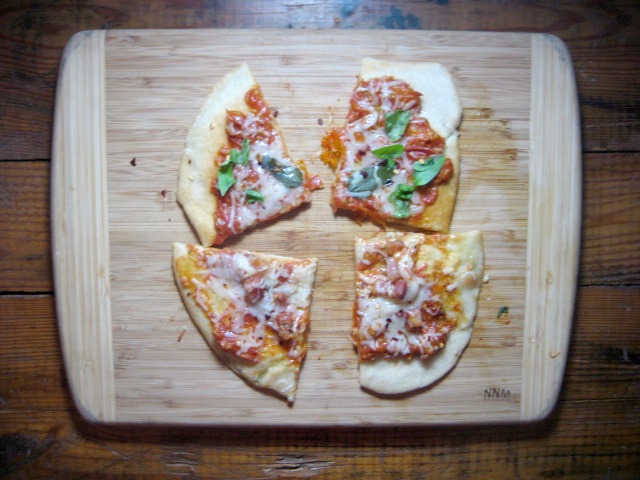 Enjoy this diddy by One Republic. It's off of their newer album and thanks to a co-worker, I've been listening to it non stop the past week. I'm a firm believer that anything Ryan Tedder writes is gold, and you can clearly hear that in this song!